Got a website that's
costing you a fortune
every month?
If you are paying weekly or monthly for your existing website (from large well known organisations) then we know we can slash your costs. Our solution allows you to enter your vehicle stock to your website, change the content, add and remove pages and so on. Don't forget you get a mobile-ready website included FREE. We are a family run business so we can keep our costs down and guarantee you a personal service every time you call.
We can setup a new car dealer with our product within 2 to 4 business hours. We will register your preferred domain name or if you already have a domain, we can simply point it to our servers with ease so you can maintain control of your existing domain name if required.
So, if you are a car dealer, motor or an auto trader of any kind we have a great solution for your new website - call us today on 01902 203333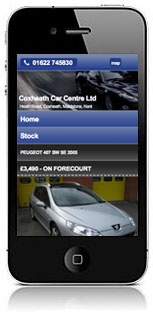 Mobile Customers
Our websites are mobile friendly meaning when anyone views it on their phone it appears how it should, slick, smart and very professional..
Tap to view, swipe to move, your site is definately on the go..
Professional Car Sales Solution
If you have a website with another provider and want to reduce your costs but maintain some online credability, CD5 is the sensible choice.
Simply put, £340 + VAT per year gets you a domain name, hosting, support and peace of mind that you are saving money! Cars also listed on Car Dealer Motors